Special Friday Catblog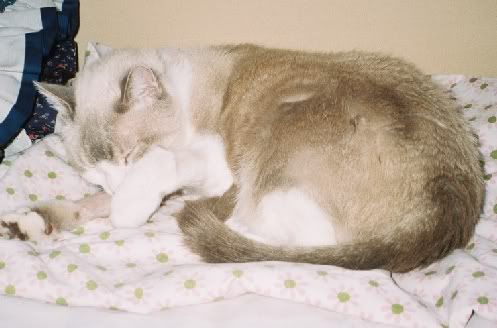 Today is the anniversary of my adoption of Phoebe.
I adopted her in 2001 from a local Petsmart adoption center. She had spent a year in foster care, learning to trust again. She had been given up for adoption by a woman, whose boyfriend abused this poor cat.
She was the first cat that was soley mine. She was a unique personality. She had various quirks but they made her all the more adorable. She insisted that the food in her bowl be absolutely level. She insisted on meowing loudly when I went to bed, until I called her to come up. However, just the way she always curled up beside my head and purred made up for all her weirdness. She stole my heart, and was my constant companion.
Unfortunatly last year she came down with cancer. Though I tried various treatments throughout the summer, the progress could not be halted. I had to put her to sleep on December 19, 2005. I gave her a happy life, and I just wish that it had been longer. She was very special, and though her life was short we gave each other so much love.
She was purring and happy to the end, I hope that made up for her bad start in life.
This is a picture of her last summer. It was taken while we were up at a private hunting lodge. She loved it up there, and settled right in. She was a very adaptable cat, and actually loved to ride in cars and didn't mind going to strange houses.
|