Happy Mabel ~ Friday Catblogging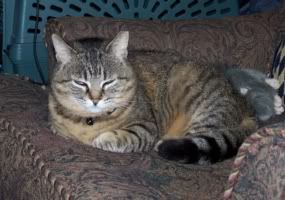 Here is a picture of Mabel (the Boomer
sub
cat), relaxing on her chair. Behind her is a toy squirrel, which is actually a dog toy. It is big, life like, and has a squeeker in its tail. Mabel loves attacking the thing, and will get a death grip on its head, and rake it with her hind claws.
I have also found the electronic squeeker mouse for her, and she likes it. Unfortunatly for the Boomer kitty, the noise will often attract an attack by a "fast attack cat" aka Minerva. So to be safe she has taken that mouse under her chair to play with. Often now I will hear squeeking coming from under there, as a submerged Boomer plays, hidden away.
Her favorite toy however is still her large blue fur mouse. Though she did suffer a trama last night. The mouse landed in her water bowl, and was too wet to play with. But a quick towel dry, followed by a trip through the clothes dryer put things to right. Now she can happily toss it around again, at least till it lands in the water again.
She has really turned into a happy and playful cat. Though she is limited to the study still, by patrols of the 'fast attack cat', she is gaining confidence daily. Often now she will stand her ground and hiss at Minerva, though sadly for Mabel, she is just ignored by Minnie. However, I have switched her to a collar without a bell, so now she can run silent like a proper Boomer kitty (look at that fat tail, she looks just like a Russian Boomer).
Of course like all Boomer kitties she is very secretive and shy.
Here she is hiding her face, in an attempt to avoid being photographed. Thus she displays the true spirit of the 'silent service'. This once feral terror of the voles, is now turning into a happy house cat. She is no longer stuck outside in the cold world, but has found a home port. For this mighty hunter, the cold war is at last over.
|