Cat Blogging Friday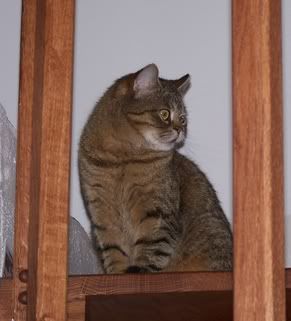 This little thing is Minerva ne' Minnie ne' FAC (Fast Attack Cat).
She is Mabel's daughter, and despite her small size really is almost three years old. She is 7.2 pounds of feisty though. I refer to both of them by submarine types. Mabel is a boomer (she will mostly hide), while Minnie is a "Fast Attack Cat", who is intent on finding the boomer and attacking her. Minnie even makes a little chirrup that sounds exactly like the diving alarm on a submarine.
Like
Mabel
she is a feral cat, and has decided that she has had enough of that wild life style in the outdoors. Instead she has decided to have a wild life style inside. She has now settled into the routine of a housecat, and loves this new concept of toys. I'll always find her three favorite toys in my bed.
At first she thought she was going to be an only cat. She was not pleased at first when her mom joined us. Now she is not hostile aggressive anymore though. Unfortunately for Mabel she is playful agressive. The little thing is a bundle of energy. In the picture above, she is intent on the birds at the bird feeder.
|