Friday Cat Blogging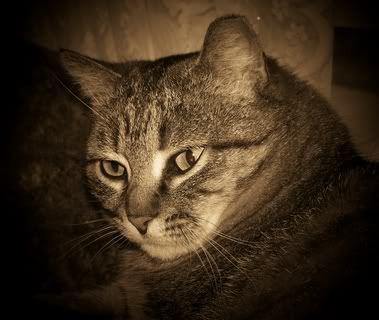 This is Mabel. I got her about a month ago. She is a the sweetest feral cat. When she was first captured to be spayed, she hung upside down from the roof of the cage hissing at anyone who came near. Now she is a gentle housecat.
It took almost five years for her to start trusting people enough to get close to them. In the end she found a loving home, and comfort. Though she does wish she wasn't sharing the house with her daughter.
Stay tuned for more of the, "Fable of the Mabel Babel."
[image altered with spotlight and sepia effects]
|